The WCS Winter Sports Banquet is happening tonight (3/7) at 6:00pm in the Cafeteria! Players should return their jerseys if they have not already done so.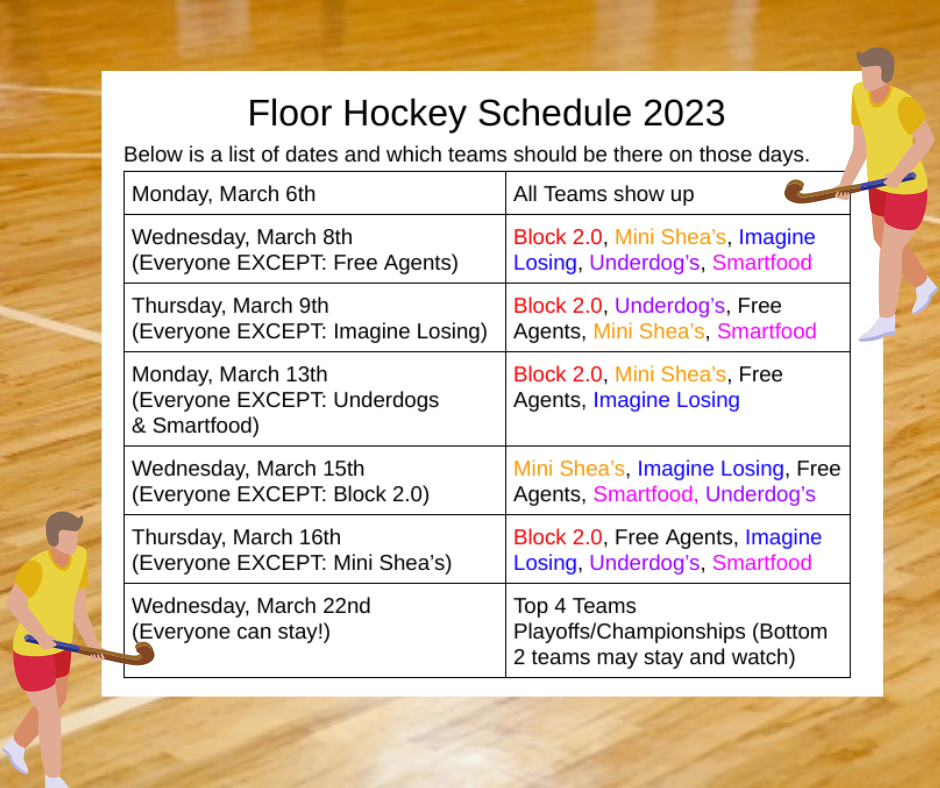 WCS Middle School Floor Hockey begins for all teams this afternoon from 3-4pm. Teams will leave this afternoon with a schedule for their team's upcoming games.
WCS is holding a Middle School Dance tonight from 6-8pm!
Due to the weather, all of today's after-school activities have been canceled. (3/2)

Good morning. Please note that the following Woolwich buses are running behind. Bus #31 is approximately 25 minutes behind schedule, bus #36 is 15 minutes behind and bus #20 is 10 minutes behind.
REMEMBER! Tomorrow is Pajama Day at WCS! Wear your snuggliest PJs to school for the last day of Spirit Week!
2/14: Bus #20 is running about 10 minutes behind schedule this morning!
Tomorrow morning (2/14) WCS Third-grade students will be TELEVISION FAMOUS as they participate in "Weather at Your School" on Channel 8. Look for them on the WMTW morning news between 6:00 - 7:00am!
2/10 Bus 49 is running about 10-15 minutes late bringing students home this afternoon
There is an 8th-grade family meeting tonight at 6PM in the WCS Cafeteria. Please bring in any items that you have solicited for the auction.
Menu Update: school lunch today (2/1) will be "Sweet Thai Chicken & Noodles" or Sunbutter & Jelly as the choice.
Due to the incoming storm, tonight's basketball games vs. Jefferson will not be taking place. All after school activities & practices have been cancelled (1/25)
Tuesday morning (1/24): Bus #36 is running about 15 minutes behind schedule, due to snowy road conditions.
8th grade families will meet in the WCS cafeteria at 6:00 pm tonight (1/19) to talk about the upcoming DC auction!
The girls basketball team will be practicing after school 1/18, (their game has been postponed to next week.) The boys team still will play Boothbay in their regularly scheduled away game tonight.
All buses have departed WCS: Bus #49 left at 3:30pm; Bus #36 left at 3:32pm; Bus #20 left at 3:34pm; Bus #31 left at 3:45pm. Have a good weekend!
Due to circumstances beyond our control, buses are running about 30-45 minutes late this afternoon.
Due to the impending weather, there will be no basketball practice after school today (Fri: 12/16)