Due to circumstances beyond our control, Bus #36 is likely to be running about 20 minutes late this afternoon.
The WCS Open House is happening TONIGHT! Yogurt parfaits from 5:30 - 6:00 pm; and open classrooms from 6:00 - 7:00 pm!
Remember: WCS School Picture Day is tomorrow! (8th graders and those who missed out this week will have their photos taken NEXT Friday 9/22.)
Due to today's rain, all WCS sports have been canceled.
PLEASE NOTE: Bus 20 is running about 10 minutes behind schedule, and bus #36 is about 25 minutes behind schedule this morning (9/6)
It's that time again! If you haven't already, please be sure to complete the WCS Transportation Survey to let us know of your student's arrival and dismissal plans for the school year. This info helps the bus office with their planning of routes and makes the end of the day run smoothly for all! Click Here:
https://forms.gle/hZrPxpdCUQGRjZdNA
Join us on Wednesday, August 30th from 5-8pm for an old fashioned block party, brought to you by the WCS PTA! This free event is a chance to see friends and have some fun before school starts. Challenge yourself on the 70-foot inflatable obstacle course, meet local fire and police professionals, enjoy corn hole, sidewalk chalk, temporary tattoos, lawn games, and free food (hot dogs, veggie burgers, chips, drinks, and popsicles.) WCS mascot, Scratch, will be stopping by as well! SEE YOU THERE!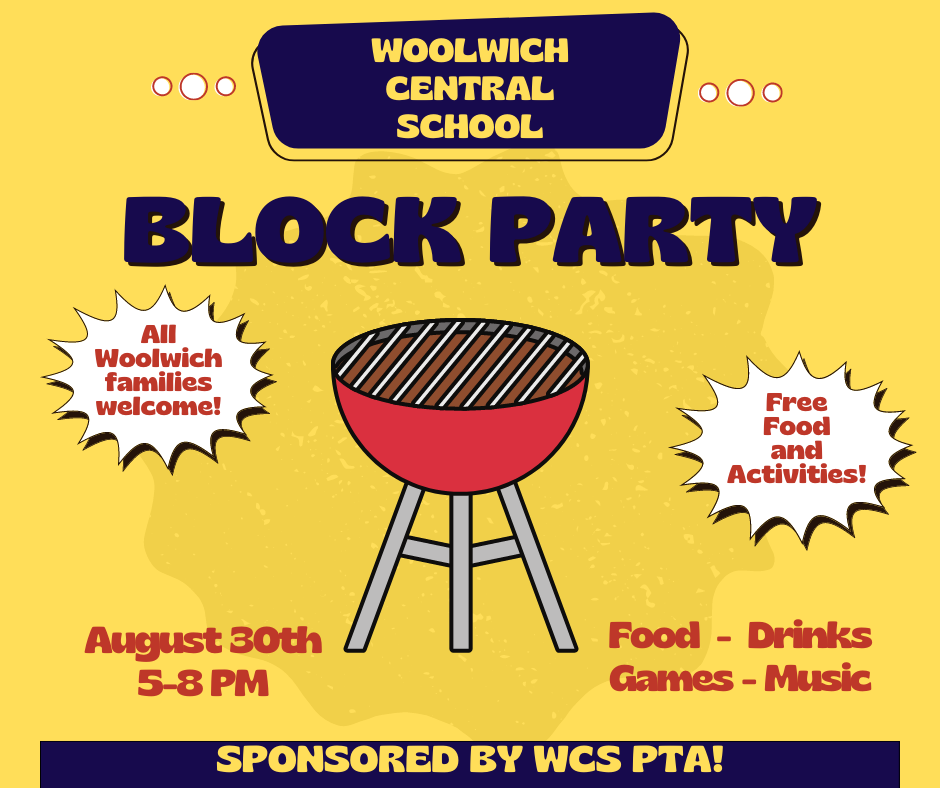 Fall sports schedules and the Athletics packet are now posted on the WCS Athletics page! Make sure your annual physical form is up-to-date!
The grade 1 & 2 Beach trip has been rescheduled for TOMORROW (6/21). Students will arrive at school for Late Start Wednesday and then bus over to the beach. Parents should check their email for more details!
Due to the threat of thunderstorms, we have been forced to cancel today's grade 1 & 2 field trip to the beach. We will be holding beach day at school, instead.
WCS Field Day is happening TOMORROW (6/15!) Please send students with raincoats and possibly a change of clothes in case they get wet. This event will happen "rain or shine," with a 100% chance of FUN!
Due to circumstances beyond our control bus 36 is going to be about 15 to 20 minutes late dropping students off this afternoon (6/7.)
Remember tomorrow is "Royalty Day" at WCS! Students are encouraged to dress in their very best in royal attire. We can't wait to see all the crowns, gowns, suits, robes, and jewels as students arrive tomorrow morning!
Join us for STEAM Night & the Spring Art Show happening at WCS from 5-7pm TONIGHT!
Due to circumstances beyond our control, bus #36 is running 15-20 minutes behind schedule this morning (5/11).
Phones are back up and running! Please feel free to contact the school by calling the front office as needed: 207-443-9739
WCS phones are down this morning (5/9). We will update you when they are back in service. Please email the office (
wcsparentnotes@rsu1.org
) if you need to report a student absence or wish to make a change to your student's dismissal plans.
There will be NO Run Club today (5/4) for grades 3-5.
Please join us at Gelato Fiasco in Brunswick today where 75% of sales today are being donated to the WCS 8th grade class! Celebrity Scoopers, Mrs. Pols and Mr. Huston will be there from 5-7pm, but the deal runs all day. Make sure to mention WCS for us to get the donation!